I don't think I've blogged about chess players and stamps before. As a young child, I collected stamps and still have them all. Just the other day, I actually ordered a new stamp album for some other loose stamps. After a chess dot com article about the best top 5 female chess players of all time, I was intrigued by the name of Verna Menchik and found her on stamp too. That led me to some more exploration. I have a few favourite Grandmaster chess players of which Magnus Carlsen is one and quite like the artistic stamp sheets I've found on ebay. With graphic software packages available these days you can create some really artistic collages like these stamp sheets. It's sad to know that Vera left her country after a family split just to come and die due to a WW2 bomb that hit her house in England – in 1944. She must have had a strong mind to continue playing chess during a time that it was very 'odd' for a female to play chess – even in England.
More about Vera:
Vera Menchik was born in Moscow in 1906 to an English mother, a governess, and a Czech father who managed several country estates. Vera's younger sister, Olga, was born 15 months later. Details of their life in Moscow are sparse but it would appear that the girls enjoyed a relatively comfortable life in pre-Revolutionary Russia. They were introduced to chess by their father when Vera was about 9 years old. The years following the Russian revolution in 1917 were hard for the family. They lost their income and their home, and the family spit up. In 1921, Vera, Olga and their mother moved to England to live with their grandmother, whilst their father returned to Czechoslovakia.
It was in England that Vera took up chess more seriously, joining her local chess club in Hastings in 1923. At this time, it would have been unusual to see women playing at a chess club. For Vera it seemed like a natural move as her spoken English was very poor, so sitting in silence suited her perfectly. Vera's talent was quickly recognised, and she became a pupil of Geza Maroczy, a Hungarian Grandmaster. Soon she was representing both the Hastings Chess Club and Sussex County in team matches and making good progress.
In 1927, the World Chess Federation held the first World Championship for women. At the age of 21, Vera was its first winner, beginning a streak ended only by the Second World War. She was the first woman to compete on the international elite chess circuit, travelling Europe and the Americas to do so. In 1937 she married Rufus H S Stevenson, who was involved in the chess world, moving into his house in Clapham, bringing her mother and sister with her. She was Mrs. Stevenson at home, but Vera Menchik in chess. Source: blog.cwgc.org
The Chess Stamps History
It all starts on May 11, 1923 in Borstendorf when a local German industry decides to advertise its business with a first specific postmark: "Papier factories, Draught and Chessboards Industries, Toy Pianos".
The first International Chess Tournament to be announced through a postmark was held in Kecskemét, Hungary in 1927 and was won by the future world chess champion Alexander Alekhine.
The 6th Chess Olympiad, organized by the FIDE took place between August 16 and August 31, 1935, in Warsaw, Poland. To commemorate this important event and also the 12th FIDE Congress was used a special chess postmark. This was the first special olympiad postmark.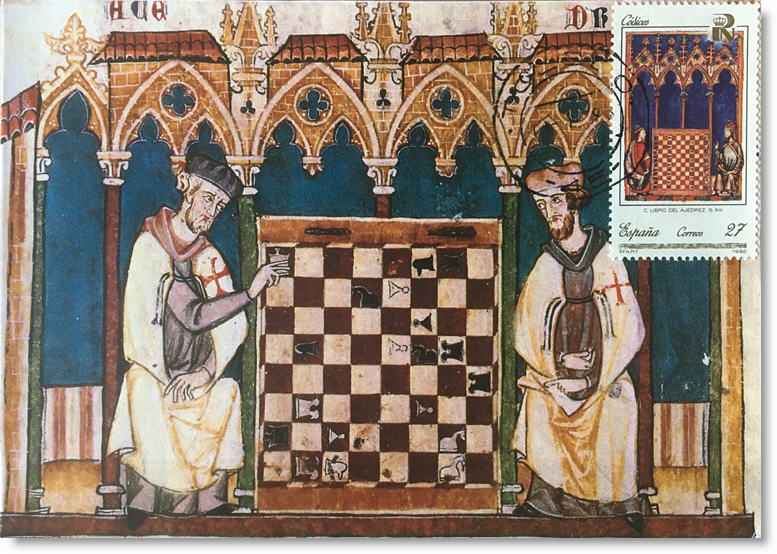 The first postage stamp with a chess topic was issued in Bulgaria in 1947. It was a stamp showing a knight with the vertical inscription 'Balkan Games 1947' and the horizontal inscription 'Republic of Bulgaria' to commemorate the 1947 Balkan Games, held in Sofia, Bulgaria on November 2-5, 1947.
On November 20, 1948 in the Hague (Netherlands) and Moscow (USSR), three chess stamps were issued to commemorate the World Chess Championship match-tournament that brought together the five strongest chess players of the time: Mijaíl Botvínnik, Vassily Smyslov, Paul Keres, Samuel Reshevsky y Max Euwe. These three stamps was the 1st World Chess Championship Stamps.
Another three chess stamps were issued in Budapest, Hungary to celebrate the first Candidates Tournament on April 9, 1950. These was the first Candidates Tournament Chess stamps.
The first Chess Olympiad commemorated by a special edition of stamps held in Dubrovnik (Yugoslavia) on August 20, 1950. There are 5 chess stamps whose FDC you can see above on the left of this page.
On November 1, 1951 seven stamps were issued in Cuba as part of the 30th anniversary of Jose Capablanca winning the world chess championship from Emanuel Lasker in 1921. This was the 1st stamps showing a portrait of a chess player.
Source: chessonstamps.com