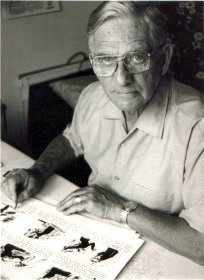 T O Honiball
Thomas Ochse Honiball was born on 7 December 1905 in Cradock. He attended school in Stellenbosch and did drawings for the school magazine. He studied architecture at the University of Cape Town (until 1926). In 1927 he continued to study commercial art in Chicago, where he was introduced to American cartoons. On his return to Cape Town in 1930 he worked in advertising and later as freelance caricaturist and cartoonist. From 1936 he worked for Nasionale Pers newspapers and in 1941 took over from DC Boonzaier as political caricaturist.
T.O. Honiball married Iona Boesen in 1934. They had four children.
Iona died in 1971. Honiball was married to Essie de Villiers – Dreyer in 1973. (Essie Honiball)
He retired in 1974 and held his first one man exhibition in Pretoria in the same year.
He continued to sketch political caricatures until 1978.
In 1977 he donated his Honiballiana – collections to Stellenbosch University and the National Library Museum (NALN – Nasionale Afrikaanse Letterkundige Museum en Navorsingssentrum) in Bloemfontein. In 1985 he bestowed his collection of political caricatures to the Nasionale Pers.
1986: Foundation of TO Honiball-Promosies
T.O. Honiball died on 22 Februarie 1990 in Montagu.
Source: HERE…and read on WIKIPEDIA more about him.


Image: http://farm1.static.flickr.com/78/247418341_9131adefc8.jpg?v=0

English readers: There's an English story at the end of this post for you….! Do enjoy!

On this next link you can read about Afrikaans stories and there are some PDF's to download about Stories/poems – in Afrikaans, mostly for use by teachers or parents doing homeschooling. The link will open in a new window.

http://chessaleeinlondon.wordpress.com/2008/09/26/storietyd-storytime/

Afrikaans Children's stories are loaded with stories written about Wolf and Jackal. You can say It's part of our culture…and almost our history. If you're an Afrikaans speaking child and you don't know about Wolf and Jackal-stories – written by PW Grobbelaar, you definitely have a H-U-G-E gap in your upbringing…and your culture… I can't even think that it would happen, only if you're now living in another country, yes, that's possible…but then it's your parents' fault if you don't know about these stories! In these stories, Jackal always plays the joke on Wolf….. We have the most wonderful stories about Wolf and Jackal and the most wonderful people to bring these stories alive to us and our children. One such a person was Dana Niehaus. Sadly, he passed away more than ten years ago…and we're lucky to have his son, Danie! Danie is a singer and he's got that wonderful personality his dad had too.  I've got a cd with some of these Wolf and Jackal stories where his dad tells those stories and would like to upload one favourite here later today. I just LOVE his way of retelling these stories. I used these stories with my grade 3 children in listening skills activities and they used to laugh more than they'd listen, so we all listened the story out first, laughed ourselves to bits and then the second time we sat with straight faces…- even though it was a bit hard – to listen to the story again…I've found a couple of stories on the internet…the source is at the bottom of this post…do enjoy them on the audio files too… luckily these stories are also in many other languages available! and they always have the most wonderful illustrated images and TO Honiball was one of the best to illustrate these books……...ok…now in Afrikaans…Ek hoop julle geniet hierdie stories en ek het gewonder, is daar enige Afrikaanssprekendes in die buiteland wat hulle tuis Afrikaans leer…ek sal graag van jou wil hoor as jy hier lees en jy een van hulle is…
Hier is een van Dana Niehaus se vertellings : Jakkals wil mos jok…van 'n Bollie-plaat. Gepraat van "Bollie"…dis so jammer dat Huisgenoot die Bollie verander het na Bobo!! waar gaan die lewe heen!! ons arme kinders het net lief geword vir Bollie…en nou moet ons hoor dat Bollie nie meer bestaan nie! Bollie was so DEEL van ons "kultuur"…!! Further down in this post you will find more audio stories.


Jakkals en Wolf is honger




Audio file: Jakkals vertrou sy eie vrede nie

Jakkals vertrou sy eie vrede nie…
Die Mooiste Afrikaanse Sprokies
uitgesoek en oorvertel deur
PIETER W. GROBBELAAR

JAKKALS VERTROU SY EIE VREDE NIE
Op 'n oggend snuffel Jakkals tussen 'n klompie bome rond, toe hy Hoenderhaan op 'n hoë tak gewaar.
"Môre, my liewe Haan," groet hy vriendelik.
"Môre, Jakkals," groet Haan. "En waar stap jy dié tyd van die oggend nog rond?"
"Ek soek 'n bietjie ordentlike geselskap," sê Jakkals vinnig. "Maar dis nie lekker om so kop in die lug te staan en praat nie. Kom sit liewers hier by my."
"O nee," antwoord Hoenderhaan. "Ek ken jou streke. As ek naby jou kom, eet jy my op."
"Nog nooit nie!" roep Jakkals uit. "Het jy dan nie gehoor nie? Daar is vrede in Afrika onder al die nasies."
"Koe-ke-le-koe!" lag Haan.
"Hoekom lag jy?" vra Jakkals.
"Nee, ek lag sommer vir al jou stories," antwoord Haan. "En dan lag ek vir my eie storie ook."
"Wat se storie is dit?" vra Jakkals.
"Gisteraand het Wildehond my bekruip," vertel Haan. Toe moes ek die bome in vlug. Nou is Boer met sy honde op pad om my te soek. Ek kan hulle al sien aankom."
"Nou ja, dan groet ek maar eers," sê Jakkals skielik haastig.
"Hoekom wil jy al loop Jakkals?" vra Haan. "Ons gesels nou eers lekker. Jy is tog seker nie bang vir die honde nie. Daar is mos vrede in Afrika."
"O ja,"' antwoord Jakkals, "maar die vraag is of die onnosele honde daarvan weet." En hy draf vinnig weg.

Sop

Die Mooiste Afrikaanse Sprokies
uitgesoek en oorvertel deur
PIETER W. GROBBELAAR

Die Boesmans het die dierewêreld fyn deurgekyk. Daarom is Leeu vir hulle die sterke, Wolf soos Hiëna dikwels genoem word 'n wreedaard, en Jakkals 'n lafhartige bedelaar.

Wolf het 'n ver pad geloop om by sy broer te gaan kuier. Nou is hy honger en dors. In die veld kry hy Leeu wat aan 'n sebra lê en eet. 'n Entjie weg sit Jakkals vir 'n bietjie oorskiet en wag.

"Naand, Leeu," sê Wolf vriendelik.

"Mmm," sê Leeu, en hy kraak 'n murgbeen oop.

Wolf gaan op sy hurke sit. "Hoe lyk dit, nooi jy my dan nie om 'n stukkie saam te eet nie?"

"Ja, ja!" sê Jakkals gretig.

"Bly stil!" sê Wolf, en Jakkals gee 'n paar tree pad.

"Nee," sê Leeu, en hy skeur aan die boud se sagte vleis.

"Net so 'n bietjie soppies om op te lek," vra Wolf. "Ek is baie dors."

"Ek lek my eie sop," sê Leeu.

"Net 'n ou murgbeentjie om af te eet," soebat Wolf.

"Dè, vat dan!" sê Leeu, en hy gooi vir Wolf die been wat hy nou net self droog gesuig het.

"En wat van my, Leeu ? " vra Jakkals met 'n huilstem.

"Trap!" sê Leeu, en hy mik met sy voorvoet.

Jakkals verskuif nog 'n entjie verder weg.

Wolf vat die been, en hy kou daaraan asof hy tog te lekker kou, en
hy suig daaraan asof daar baie te suig is. Toe staan hy op. "Baie dankie, Leeu," sê hy. "Ek sal sulke vriendelikheid nie vergeet nie. Kom eet gerus môreaand 'n bietjie sop by my.

"Dankie, ja," sê Leeu, en hy lek al klaar sy lippe af, want hy weet Wolf se maats is dood as dit by sop kook kom.

"Dankie, ja!" sê Jakkals asof Wolf hom ook genooi het, en hy gaan lek die droë been af wat Wolf laat agterbly het.

Agter die bultjie kom Wolf op 'n volstruis af. Dis net vere en voete, en toe begin Wolf weglê. Die stuk wat oorbly, sleep hy saam huis toe. "Eet julle maar die vleis, " sê hy vir sy vrou en kinders. "Laat bly net die bene vir my."

Die volgende dag sit Wolf twee potte op die vuur vir die volstruissop. Die een pot haal hy betyds af om koud te word, maar die ander pot hou hy kookwarm.

Dis ook nie te lank nie, of hier kom Leeu aan met Jakkals op sy spoor. "Hoe lyk dit met daardie sop waarvan jy gepraat het, Wolf?" vra Leeu.

"Ja, hoe lyk dit met die sop?" vra Jakkals.

"Kom sit maar hier in die ry," sê Wolf, en hy beduie waar sy vrou en kinders al wag.

Vrou Wolf hou haar mond oop, en Wolf gooi in, maar dis van die koue pot s'n. So gaan hy van kind tot kind, en hulle drink tog te lekker. Maar toe hy by Leeu en Jakkals kom, skep hy twee bekers van die vuurwarm sop uit.

"Maak wyd oop!" sê hy, en hulle maak so.

Toe gooi hy.

Leeu wil nog sluk, toe spu hy al dat die sop met so 'n wye boog staan. "Sjoe, vriend Wolf," sê hy kortasem, "maar jou sop is vandag darem kwaai."

"Dis van 'n volstruis se bene," sê Wolf. "Dié voël kan mos so kwaai skop. Wil jy nog 'n bietjie hê?"

"Nee, dankie," sê Leeu, "ek dink ek loop maar weer."

En Jakkals? Hy kan nie insluk nie, want dis te warm. En hy kan nie uitspu nie, want hy is te bang vir Wolf. Daarom sit hy so met die trane wat oor sy wange loop. Maar toe Leeu wegdraf, draf hy saam, en hy maak sy mond agter 'n bossie leeg. En nou nog as Jakkals so in die maanskyn wag dat Leeu klaar moet eet, en hy dink aan daardie sop, dan begin hy sommer van nuuts af huil.

Luister maar mooi.

"Kwaai sop!" tjank Jakkals. "Volstruissop! Volstruissop met 'n skop!"

Vat hom Jakkals!

Die Mooiste Afrikaanse Sprokies
uitgesoek en oorvertel deur
PIETER W. GROBBELAAR

VAT HOM, JAKKALS!
Deur hul aanraking met mekaar, het die sprokies van die verskillende rasse so vermeng dat 'n mens soms nie weet waar die Boesman storie ophou en die Hottentot invloed begin nie om van die invloed van wit en swart mense nie eens te praat nie. Maar die belangrikste bly die verhaal self.
i. Ryperd
Jakkals is kwaad vir Hasie, want hy het stories by vrou Jakkals gaan aandra, en nou het sy haar man die huis belet. Maar Hasie het baie planne. Op 'n dag hoor hy Jakkals suutjies in die paadjie draf. Toe gaan lê hy in die bossies en kreun.
"Ha! nou het ek jou, Haas," sê Jakkals, en hy wil net spring, maar Hasie antwoord met 'n swak stem: "Vat my maar, Jakkals. Ek is te siek om te vlug. Tel my op jou rug, dan dra jy my huis toe."
En Jakkals dink dis glad nie so 'n slegte plan nie. Nou sal sy vrou sommer weer vir hom goed word as hy met 'n lekker stuk haasvleis daar aankom. Jakkals laat loop in die paadjie af, en Hasie moet net klou.
Jakkals, Jakkals!" roep hy later, "Die vlieë pla baie. Pluk tog vir my 'n taaibostakkie dat ek hulle kan wegjaag."
"Ai, jy is lastig," sê Jakkals, en hy gaan pluk maar.
Toe hulle nog van ver af na Jakkals se huis toe aankom, staan sy vrou al op die stoep om te kyk wat haar man hier kom soek. "Vrou, vrou!" roep Jakkals. "Ek het vir jou 'n lekker vet haas gebring."
Maar kyk, nou sit Hasie regop, en die pyne is skielik uit sy lyf, en die taaibostak is 'n lat. "Vrou, vrou!" koggel hy Jakkals. "Ek het vir jou 'n lekker vet jakkals gebring!" En die lat gesels oor Jakkals se blaaie, en Jakkals bokspring en galop. Toe wip Hasie van sy rug af en verdwyn lag lag in die bossies.
"Nee, so 'n treurige man wil ek nie hê nie," sê vrou Jakkals. "Waar het jy al van 'n jakkals gehoor wat hom deur 'n haas laat ry? Maak dat jy wegkom hier voor my oë!"

ii. Die Byekerk
Hasie hardloop na die berg se kant toe, en daar sien hy 'n bynes diep in 'n klipskeur. "Ai!" sê Hasie:
"Lekker is lekker,
en goed is goed –
en die beste lekker
is heuningsoet!"
En Hasie druk sy kop diep in die skeur om die nes by te kom, maar hy het nie geweet dat Jakkals al weer spoorsny nie. Hy sit nog so, toe Jakkals hom aan die hakskeen gryp. "Ha! nou het ek jou, Haas," sê Jakkals, en hy wil hom sommer sy tande laat proe.
Maar Hasie het klaar geskrik en ver gedink. "Sjuut, Jakkals," sê hy. "Kan jy nie hoor my vriende hou kerk nie?"
"Waar?" vra Jakkals nuuskierig.
"Hier in die klipskeur," sê Hasie. "Ai, hulle sing tog te pragtig!"
"Laat ek hoor, sê Jakkals, en hy druk sommer in. Dan trek hy sy kop weer uit en sê: "Nee wat, hulle kan nie sing nie. Dis net brom brom brom, al op dieselfde wysie."
"Hulle is seker moeg," sê Hasie. "Steek 'n bietjie 'n stok daar by die voordeur in dat hulle weet ons is hier. Dan moet jy hoor."
En Jakkals gryp 'n stok, en hy werskaf in die klipskeur rond, en toe druk hy sy kop in om goed te luister.
Nee kyk, dit was 'n sonde. Die bye mors met Jakkals; hulle verniel hom; hulle steek hom byna dood. Hy spring om en hardloop, maar die bye het nie tyd nie. Dis net zoem tjiek! "Eina!" Zoem tjiek! Zoem tjiek! Zoem tjiek! "Eina! Eina! Eina!"
Hasie lê soos hy lag. Hy rol soos hy lag. Hy maak hom eintlik seer. Nee, Jakkals sal hom nie gou weer pla nie.

iii. Vat Hom, Jakkals!
Maar Hasie is glad te gerus. Sing sing in die paadjie. Wirts warts om die bossies. Kyk nie waar hy loop nie; trap nie waar hy kyk nie. Woep! daar sit hy. Jakkals het voëlent aan 'n stomp gesmeer en dit in die paadjie neergesit. Hasie spook, maar hy sit al hoe vaster. Hy ruk en pluk en skree.
Jakkals kom tussen die bossies uit. "Ha! nou het ek jou, Haas!" sê hy. Sy lippe is nog altyd skeef geswel van die bysteke sodat dit lyk asof hy nie kan ophou lag nie.
Hasie word stil. Ja, jy het my, Jakkals," sê hy. "Nou kan jy my maar opeet. Dis net jammer om so dorstig te sterwe. Ek was juis op pad rivier toe."
"Nee, ons kan 'n bietjie gaan drink," sê Jakkals, wat hom heeltemal droëtong gehardloop het om die strik vir Hasie reg te kry. Hy pluk Hasie los van die voëllym af, gooi hom oor sy skouer en stap af na die drinkplek toe.
Ai, hoe stil en blink is die water nie. Jakkals laat sy kop sak om te drink. Maar kyk die ongeskik! Hierdie ander jakkals druk sommer sy snoet tussenin. "Gee pad!" brom Jakkals.
"Wat is dit nou, Jakkals?" vra Hasie agter sy skouer.
"Kyk self," sê Jakkals, en hy sit hom neer. En: "Staan soontoe!" sê hy vir die ander jakkals wat hom al weer beskou.
Hasie sien dadelik dat Jakkals met sy eie weerkaatsing baklei, maar hy sê niks nie.
"Loop weg hier!" sê Jakkals vir die derde maal, en hy wys tande, maar die waterjakkals wys terug.
"Moenie so met jou laat speel nie!" roep Hasie. "Kyk hoe staan daardie ander dier se mond soos hy jou uitlag. Vat hom, Jakkals!"
Toe Jakkals gryp, gryp die ander jakkals ook. Toe Jakkals duik, is hulle doems! al twee binne in die water. Toe Jakkals verdwyn, is alles weg.
"Ha ha ha!" lag Hasie:
"Kwaai is kwaai,
en kwaai se voet:
ou Jakkals soek
sy eie bloed!"
En toe Jakkals hangstert uit die water klim, sing Hasie al ver in die paadjie af.

Audio file: Vat hom Jakkals!



Antjie Somers

Die Mooiste Afrikaanse Sprokies
uitgesoek en oorvertel deur
PIETER W. GROBBELAAR

ANTJIE SOMERS
As paaiboelie het Antjie Somers geen gelyke in Afrikaans nie. "Oppas vir Antjie Somers. Hy sal jou in sy groot sak stop!" is 'n dreigement wat baie geslagte kinders soet gehou het. "Hy", ja, want Antjie Somers was natuurlik eintlik 'n man. Hier volg een van die talle maniere waarop die verhaal vertel word.
Andries Somers was 'n voorman onder die Strand se vissers. Wie kon soos hy 'n treknet vasvat? Wie 'n spaan met hom laat sak? Nee, niemand nie. En dapper! Waar iemand in gevaar gekom het, was Andries Somers eerste by. Nes 'n see-eend kon hy swem, en talle drenkelinge het hy land toe gebring as die ander al lankal moedverlore was.
Maar afguns is daar altyd, en skoorsoek is g'n kuns nie. Eendag op die strand pak 'n klomp vissers hom. Andries laat nie met hom speel nie. Hulle kantel voor sy vuiste. Maar een bly te stil lê waar sy kop 'n klip gevang het. Andries moet vlug, anders hang die mense hom dalk op. Hy kry 'n sisrok van sy suster. Hy bind 'n kopdoek om. Hy haak 'n mandjie oor sy arm. Toe kies hy koers, diep na die binneland.
Op 'n plaas agter die berge gaan verhuur hy hom. En hy werk weer soos net hy kan. Van die voordag staan hy bak tot dit laat word in die aand. Wingerd spit of pars of mis ry maak nie saak wat hulle doen nie. Andries Somers word die voorman op die plaas.
Maar die afguns het ore en 'n storie baie tonge, en voor lank skinder die mense kliphard onder mekaar.
"Vertel ons,Andries, van die sisrok wat jy in jou huis wegbêre," por die ene.
"En die kopdoek, Andries Somers ? Of is jou naam dalk eintlik Antjie?" pla 'n ander.
"Antjie Somers! Antjie Somers!" koggel hulle.
Andries Somers laat sy kop sak, en hy maak of hy nie hoor nie, want naderhand kom daar weer nuwe rusie. Maar die derde dag toe kan hy hul geterg nie meer verduur nie. Daardie aand pak hy sy bondel, en hy maak dat hy daar wegkom.
Nooit weer keer Andries terug nie. Nêrens slaan sy spoor weer uit nie. Hy het soos 'n gees verdwyn.
Maar al meer vertel die kinders wat saans teen die berg gaan hout soek van 'n ou vrou wat hulle verjaag.
"Sy het 'n rooi kopdoek," sê een kind.
"Sy het 'n sisrok met groot strepe."
"Sy het 'n lang mes."
"En 'n mandjie."
"En 'n streepsak oor haar skouer."
"Sy wil ons vang en in haar sak prop!" kerm hulle.
En die grootmense skud kop. "Dit is daardie Antjie Somers," sê hulle onder mekaar.
Andries Somers raak vergete: dapper Andries, flukse Andries, Andries wat altyd kon voorvat. Maar een storie word al luider en geslagte lank herhaal: "Antjie Somers! Antjie Somers, Antjie Somers gaan jou vang!"

Audio file: Antjie Somers



Source: http://www.logoslibrary.eu/pls/wordtc/new_wordtheque.w6_start.doc?code=196&lang=af
This next story….comes from this site…:

http://students.ou.edu/F/Christine.R.Frederiksen-1/Mythology%20Story%20Two.html

Once upon a time there was a Wolf and a Jackal walking down the road that led to town. As they were walking, they found a wagon on the side of the road. The Jackal and the Wolf decided to see what was in the barrels that were on the wagon. They couldn't believe their eyes! It was butter.
So the Wolf and the Jackal sat there for a moment just looking at their discovery. They couldn't figure out how to get those big barrels off the wagon and take them home. They talked about it and decided that the Wolf would go to the front of the wagon and play dead. Then when the farmer loaded his body in the wagon and drove off, he would quickly roll one of the barrels off the wagon. The Jackal would go hide in the tall grass and wait.
The farmer came back and saw the Wolf lying on the ground in front of the wagon. He took his donkey whip and whipped the Wolf a couple times to make sure that he was "dead". He then picked up the Wolf and put him in the wagon.
(Their plan was really working. I bet that whip really hurt the wolf. Sometimes when people are naughty they get spankings. I one time got spanked with some bamboo. I will never be naughty again).
When the farmer started driving away, the Wolf pushed the barrel off the wagon and up ran the Jackal. He took the barrel to the side of the road. A few minutes later, the Wolf jumped off the wagon and made his way back to the barrel and the Jackal. The wolf couldn't wait to dig into the butter. He was so hungry, but the Jackal insisted that they wait. He told that Wolf that fresh butter will make you die if you eat it. He told him that they would have to let it get ripe. The Wolf was so disappointed. They then made their way back home, excited about what they had found.
Well a few days later the wolf couldn't keep his mind off the barrel of butter, so he ran to the Jackals house and asked, "is the butter was ripe yet?" The Jackal replied, "Umm, to tell you the truth, Wolf, my wife just had a baby. We named him Good Start. I am more worried about getting him baptized than I am about the butter. Why don't you come back by in a couple of days and then we will check on the butter." The wolf agreed and went on his way.
(Did you know that the Jackal was really in his house eating all the butter? His wife really didn't have a baby).
A few days later the Wolf ran to the Jackal's house. He was pounding on the door. The Jackal came running to see who it was. "Oh, Wolf, you scared me to death. I thought I was being robbed," said the Jackal.
The Wolf replied, "I want to go check on the butter and I want you to come!" The Jackal snarled back, "Well, I have some bad news. My wife just gave birth to two more sons, so I am off to get them baptized. We named then First Hoop and Bottom of the Barrel." The Wolf was even more mad and he was more hungry for the butter. The Jackal promised that tomorrow they could go get the butter.
That night the Wolf couldn't sleep because he was so excited. The Jackal had been waiting for him when he got there. They ran to the barrel only to find that the butter was gone. The Jackal blamed the Wolf and the Wolf blamed the Jackal for eating all the butter and not sharing. They began to fight. The Wolf was much bigger than the Jackal and could win the fight easily. The Jackal screamed to stop the fight. He made a suggestion about how they could find out who ate the butter. He said, "We will both go lie on those rocks and take a nap. The sun will make us warm and we will sweat out the butter. When we awake from the nap we will see who has butter on him." The Wolf that this was a great plan because he knew he hadn't eaten any of the butter.
(Did you know that you really can't sweat out butter?).
Well, the Jackal really didn't sleep. He just lay there waiting for the Wolf to go to bed. He then ran over to put the rest of the butter on the Wolf's body. A few minutes later the Wolf woke up and looked at the Jackal. They looked at each other and the Wolf had butter everywhere. The Wolf knew that he really hadn't eaten any butter, but the Jackal insisted that he had. The melting butter around his mouth proved it. The Jackal was so mad they didn't speak for days….The End.

Tyl Uilspieël Storie

Uilspieёl neem die dorp op horings

Op 'n dag sê Tyl vir sy ma: "Ek gaan op 'n tou loop soos hulle in die sirkus doen."Wat makeer jou?" vra sy ma, verskrik ."Jy sal afval en jou nek breek."

"Nee Ma, ek oefen lank reeds in die geheim op ons solder om op 'n tou te loop. As ek dan ook boonop soos 'n hanswors aantrek, en grappies maak, sal ek twee keer soveel geld maak."

"En as jy afval?" vra sy ma benoud.

"Toemaar Ma, ek sal nie val nie, vir die veiligheid sal ons 'n matras onder sit. Ek het reeds vir my maats belowe om môre vir hulle 'n vertoning te lewer. Ek gaan 'n tou bokant ons venster vasmaak, en dan weer oorkant die straat aan die bure se huis."

"Ag Tyl, waarom is jy tog so stout?" sug sy ma, Maar hy steur hom nie aan haar nie. Hy het die tou gespan en daarop geklim.

As hy maar geweet het van die plan wat die bure in die mou gevoer het, het Tyl dit sekerlik nooit gewaag nie. Omdat hulle vir hom kwaad was oor die poets wat hy hulle vroeër gebak het, het hulle 'n plan beraam om hom in eie munt terug te betaal.

Net toe Tyl op die tou op sy een been gaan staan en sy arms uitsteek om sy balans te behou, sny die bure se kinders skielik die tou af en daar tuimel hy neer. Gelukkig het hy op die matras geval, maar vir dae lank kon hy skaars sit of loop. Terwyl hy daar op die matras op sy rug lê, het hulle hom lekker uitgelag en gespot. Uilspieël het gemaak of hy hulle nie hoor nie, maar in die stilligheid het hy gedink: "Toemaar, ek sal julle terugkry."

'n Paar dae later kondig hy aan dat hy op die mark 'n tweede vertoning gaan gee. Die dorp se mense is almal daar om die pret te aanskou. Uilspieël se vriende kom almal hand gee en sê met 'n spotlaggie: "Ons hoop dat dit hierdie keer beter met jou sal gaan."

"O, julle gaan verstom staan oor al die wonderlike toertjies wat ek vandag gaan uithaal," belowe die voornemende koorddanser. "Maar voor ek begin, moet julle my help. As die toeskouers elkeen hul linkerskoene uittrek en vir my aangee, sal ek vandag sorg vir heerlike pret."

Ewe onnosel voldoen die mense aan sy versoek en kort voor lank het Tyl 'n hele klomp skoene bymekaar. Hy ryg hulle almal met 'n tou aanmekaar en klim bo-op een van die hoë pale waaraan die tou vasgemaak is. Hy gaan sit op die paal en waai vrolik vir die mense.

"Toe nou," skree die toeskouers ongeduldig. "Begin nou met jou grappies. Hoekom het ons dan ons skoene vir jou gegee?"

"O, ek wil hulle eers sit en bekyk," skreeu Uilspieël bo van die paal af. "Hier is ou Ryk Soul se flentertoiings wat al seker honderd maal versool en gelap is. Dit is 'n skande vir so 'n ryk man. Hierdie blinkleer stewel behoort seker aan Fanie Fyntrap. Ek wonder of hy al ooit daarvoor betaal het."

Een vir een bekyk hy die skoene soos 'n bobbejaan. Die toeskouers word al kwater vir hom. Elkeen is doodbenoud dat sy skoen aan die beurt sal kom. "Ons was gekke om ons skoene vir die mannetjie te gee", dink hulle.

Maar Tyl geniet homself gate uit. "Aan wie sou hierdie skeefgetrapte, slordige ou stewel behoort?" skreeu hy. "Tog nie aan Meester nie? Wat moet die skoolkinders van hom dink? En hierdie skoentjie met die fyn spitsneusie? Hoe sou Ellie Platvoet ooit haar breë platannas daarin kry?"

"Gee terug ons skoene!" skreeu die toeskouers woedend.

"Dê, vat julle toiings!" sê Uilspieël meteens, en hy laat die skoene soos reën op die mense val.

Almal koes en elkeen probeer weer om sy eie skoen in die hande te kry. Dit tel op en pas aan vir 'n vale. Een ruk 'n skoen uit die ander se hande. Hulle skel en raas en slaan onder mekaar dat die stof so staan. Die hele markplein is in rep en roer.

Maar wat doen Uilspieël? Hy sit daar bo-op die paal en hou sy maag vas soos hy lag. "'n Mooier konsert sou ek nooit kon gee nie!" skreeu hy. "Julle behoort my te betaal. Ek het lanklaas soveel pret gehad."

Eers nadat almal terug is na hul huise, het Uilspieël vinnig van die paal afgeklim en die hasepad gekies na sy eie huis voordat die ander seuns hom in die hande kon kry.

Deur iets van die skoen te sê, het Uilspieël eintlik iets van die persoon gesê aan wie die skoen behoort. Stem julle saam dat ons haarstyle en kleredrag dinge van onsself verklap? [Source: cnx.org]